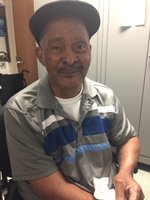 Mr. Will Levi Palmer II
Obituary
On April 4, 1945 Will Levi Palmer was born in Jackson, Mississippi to the late Mr. and Mrs. Will Henry Palmer. Will was the fourth child of nine children. He and his wife, Joyce Jones Palmer, married and raised three children together.
He was preceded in death by three sisters, Hattie Palmer, Temoris Palmer, and Manoria P. White, and three brothers, Alpha, Samuel, and Van Zante Palmer.
Will attended Brinkley High School in Jackson, MS. Eager to serve his country, he joined the United States Air Force in 1971 and served as an Airman. Later, he attended Hinds Junior College and earned his apprenticeship as an auto body and paint specialist and, following this, was employed at Illinois Gulf Central Railroad.
At an early age, he confessed Christ as his personal Savior and was a member at Bonner Institutional AME Church in Jackson. His mother, Hazel T. Palmer, was an MFDP delegate and recognized as a civil rights leader in Mississippi. She was the inspiration for Will to become an activist in the Freedom Riders Movement. Will enjoyed playing bingo, spending time with family and friends, and watching sports. He especially loved watching boxing matches of his idol, Muhammad Ali. Many friends and family members have shared stories and photos of Ali with Will. He will always be remembered by his smile, signature hand sign, and catch phrase: "Boy, boy, boy!"
He is survived by a host of family members and many dear friends.