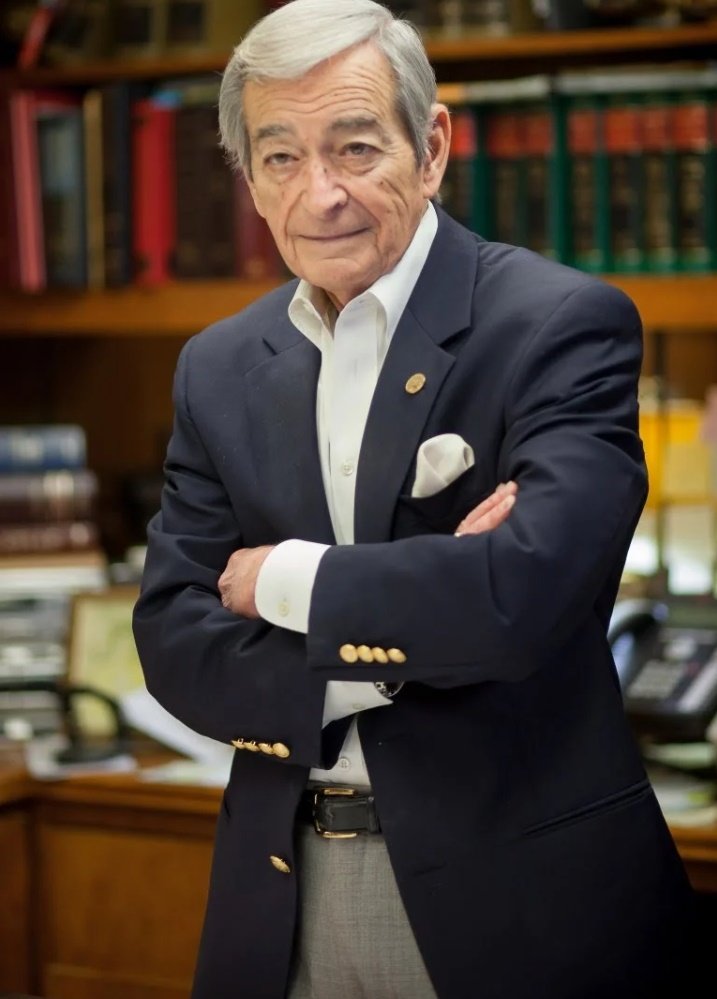 Obituary of Honorable Dale Danks, Jr.
Please share a memory of Honorable Dale to include in a keepsake book for family and friends.
Honorable Dale Danks, Jr., 81, of Madison, passed away on June 9, 2021 at Hospice Ministries in Ridgeland, MS. A memorial gathering is being offered on Tuesday, June 15, 2021 from 10:00 am - 12:00 pm at Natchez Trace Funeral Home in Madison, MS. In Lieu of flowers, memorials in Dale Danks name may be made to: Cops Pops P.O. Box 2489 Madison, MS 39130, Webster Animal Shelter P.O. Box 40 Madison, MS 39130 or to an animal shelter of your choice. Dale is survived by his wife of 17 years, Janet Webb Danks, daughter, Lori Ann Spreafico and her husband Tony; grandson, Michael Dale Long and his wife Meg Gordon Long; two stepdaughters, Candace Hailey Battaglia and her husband Anthony Battaglia and Camille Hailey; granddaughters, Addilena Battaglia and Hazel Battaglia; grandson Marc Anthony Battaglia and his beloved pets, FeFe, Dede and Crystal. Dale was born on August 27, 1939 to the late Alney Dale Danks and late Anna Marie Ross Danks. Dale was educated in the Jackson Public Schools and attended Millsaps College. He is a graduate of the Jackson School of Law; now Mississippi College Law School. Prior to the entry into the field of law in 1964, he worked for the City of Jackson, first in the Sanitation Department and later in the Water Department office. Nearly fifteen years of law practice in the firm of Danks, Craig and Moss was coupled with six years of service as County Prosecuting Attorney. He was first elected to this office in 1971 and was re¬ elected in 1975 where he served until assuming the office of Mayor in 1977. While County Prosecuting Attorney, Danks, with his two assistants, handled in excess of 3,000 cases, covering the widest possible range of criminal activity. In 1973, during the time he was the prosecuting attorney for Hinds County, he was voted Jackson's "Outstanding Young Man" by the Junior Chamber of Commerce. First elected Mayor of Jackson in 1977, Dale was returned to office in 1981and 1985. During twelve years as Mayor, Danks was instrumental in revitalizing downtown Jackson and has encouraged the economic development of the city through bringing new industries to the city. He instituted the Precinct System in the Jackson Police Department, giving neighborhoods more visible police officers and faster response time to calls. The Neighborhood Crime Watch, as well, as Crime Stoppers programs were started by Danks shortly after becoming Mayor. Not quite two years on the job as Mayor, Dale was in the midst of the greatest flood in Jackson's history. In its aftermath Mayor Danks organized the US Coalition of Mayors which serves today as a bargaining tool for flood prone communities across the county in their efforts with the U.S. Army Corps of Engineers and the United States Congress. After the flood, Mayor Danks led the City of Jackson and developed and installed a computer-operated flood warning system which is housed at the Emergency Operations Center. Mayor Danks also obtained private sector financing to ensure the City of Jackson remained the permanent home in the Western Hemisphere for the International Ballet Competition. In addition, Mayor Danks made several trips to the Far East on trade missions, he created the Mayor's International Trade Commission, chaired by former Governor William Winter, to formulate plans and strategies for opening up trade and commerce with foreign business interests. Dale Danks has served on many boards, committees, commissions and associations including President, Mississippi Municipal Association, Energy Transportation Committee, Housing and Economic Development Committee, State Fair Commission, Policy Planning Committee Chairman for CMPDD, Governor's Constitutional Study Commission, Government Finance Officers Association, member of the American Bar Association and Mississippi State Bar, Jackson Chamber of Commerce, Mississippi Public Safety Council, American Red Cross, Hinds County Soil and Water Conservation Board, National Register of Emergency Medical Technicians, Mississippi State Board of Health Emergency Medical Technicians, Board of Law Enforcement Officer Standards and Training, Mason-York Rite-Shriner and Wahabi Temple Director's Staff, Motor Corps. He also received numerous awards, accolades and recognition from Veterans of Foreign Wars, Veterans Administration, Jackson Jaycees, International Supreme Council of the Order of DEMOLAY, United States Department of Agriculture, Mississippi Prosecutors Association, Hinds County Soil and Water Conservation District, U.S. Air Force Auxiliary Civil Air Patrol, Jackson Police Officers Association, Jackson Police Wives Auxillary, National Constables Association, U.S. Naval Academy, Veterans of Foreign Wars of the United States, Mississippi Security Training Academy, Exchange Club of Forest Hill, Mississippi Broadcasters Association, Boys Club of America, Knights of Columbus and Sales and Marketing Executives International. Dale recently served as the city Attorney for Madison the City and served as the city's Municipal Court Judge. He was also a current partner in Danks, Miller and Cory where he continued to be engaged in general trial practice.
Memorial Gathering
10:00 am - 12:00 pm
Tuesday, June 15, 2021
Natchez Trace Funeral Home
759 Highway 51
Madison, Mississippi, United States
601-898-8565
Share Your Memory of
Honorable Dale
(601) 898-8565