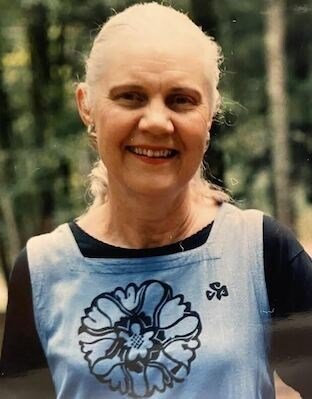 Obituary of Diane Weaver Blankenhorn
Please share a memory of Diane to include in a keepsake book for family and friends.
Ridgeland - Diane Weaver Blankenhorn, 88, passed away peacefully and surrounded by loved ones on Friday, July 16th at Hospice Ministries in Ridgeland, Mississippi. There will be a visitation at 1:30 p.m. followed by a service at 3 p.m. on Wednesday, July 21st at Fondren Presbyterian Church at 3220 Old Canton Road in Jackson. Diane was preceded in death by her father, Robert Jefferson Weaver, her mother, Fern Swilley, her brother, Robert Jefferson Weaver, Jr., her sister-in-law, Suzanne Batson Weaver, and her son, James Robert Blankenhorn. Diane is survived by her beloved husband of 67 years, Dave, a son, David, two daughters-in-law, Raina and Melinda, two sisters, Kate Weaver Bray and Evalin Weaver Daniel, and five grandchildren, Raymond (Irene), John, Sarah (Andy), Alexandra, and Sophia. She also leaves behind Buster, her pet dog and constant companion, who already misses her. Diane was born on January 26, 1933, in Clarksdale, Mississippi. Due to her father's job in construction, her family moved frequently during her childhood, living in several Mississippi towns and in Memphis, where she started school at age five. When she was in the second grade, the family moved to Jackson, Mississippi, where she attended Power Elementary School, Bailey Junior High, and Central High School. A very happy and influential childhood experience was at Camp DeSoto, a girls summer camp atop Lookout Mountain in Mentone, Alabama, where she spent two months each summer for nine straight summers, seven as a camper and two as a counselor. Diane loved everything about DeSoto. She loved the songs and sang them to her children (whether requested or not) during long car rides. She loved the rough cabins the campers slept in, and the nightly camp fires. She strongly believed, and sought to pass on to her children, what she understood to be the attitude toward life that DeSoto cultivated in the campers - an upbeat, can-do spirit which came through clearest in her regular reassurances that, whatever the challenge, "that's no problem for hi-steppers like us." She promised her DeSoto friends, with whom she remained close the rest of her life, that she would make sure that her obituary said that she was a DeSoto camper, a Chickasaw. Another life-shaping childhood experience was joining Fondren Presbyterian Church. She began attending as a young girl, and more than seven decades later, she said that "my dear Fondren Church means the world to me." She also meant a lot to Fondren. She volunteered in the nursery. She taught Sunday School for "more years than I can count." She was a church elder. She served twice as president of the Presbyterian Women and served on three pastor nominating committees. She traveled the South working for the church, including for Church Women United, one of the earliest interracial church women's groups. She developed Presbyterian religious education curricula. She served on several General Assembly committees. She organized Fondren' s library and for many years served as church librarian. She played in and was deeply devoted to the church hand bell choir. When she was a junior in high school, she asked if she could leave home to attend Copiah-Lincoln High School in Wesson. Her mother agreed, and Diane graduated from Co-Lin High and then went on to graduate from Co-Lin Junior College. She says she "flourished" at Co-Lin, which appears, if anything, to be an understatement. She was head majorette ("I loved every minute of that"). She was class valedictorian. She was voted "Miss Copiah-Lincoln" and, some years later, an "Alumnus of the Year." After football games, girls would walk out onto the field and take the arms of their boyfriends who'd just finished playing. After one game, the head majorette, Diane, walked out and unexpectedly took the arm of Dave Blankenhorn, one of the star players. She says "it was the boldest thing I had ever done in my entire life." Dave told her he liked the gesture. They were a couple, she says, "from then on," and were married in 1954, two weeks after they'd both graduated from the University of Southern Mississippi (Diane majored in English, graduated with honors, and was the marshal of her sorority, Tri-Delta). This June Dave and Diane celebrated their 67 th wedding anniversary. After they married, they moved to Germany, where Dave served two years in the U.S. Army. Their son David was born in a military hospital in Germany in 1955. Their son Rob was born in Jackson in 1958, after they'd returned to Mississippi and as Dave was beginning his career at Allstate Insurance Company. The next years were focused on building a life with Dave and taking care of her family. A big station wagon. McRae's. Little League practices, the swimming pool, dentists' appointments. Stretching dollars, clipping coupons. Twenty dollars a week - not a penny more - for groceries. Dinner on the table at 5:30 p.m. Church every Sunday morning and every Wednesday night. Vacation Bible School every summer. PTA. Bridge club. Appliances from Sears. Husband a captain in the U.S. Army Reserve. A small house, a neighborhood full of children. Dogs in the backyard. Ed Sullivan, Bonanza, I Love Lucy reruns. Meatloaf. Baked beans with bacon or sliced hot dog wieners on top. Fried chicken, rice and gravy, grits with butter, canned vegetables, homemade biscuits. Putting money away for Christmas presents. A new outfit for each child every Easter. Trips to Birmingham, Alabama, to visit Dave's extended family. Shopping for antiques with her mother, who for a while lived across town and later across the street. Starting in the early 1970s, there were frequent moves, as Dave thrived in his career. They lived in Salem, Virginia. St. Petersburg, Florida. Libertyville, Illinois. Milwaukee, Wisconsin. Each time, an uprooting for Diane - a new church to find, new neighbors, new schools, and far away from her mother, from Fondren, from her closest friends. Yet the new places also had many wonderful opportunities for new experiences and new friends, and of course for Diane relocating every couple of years was "no problem for hi-steppers like us." In each new place, Diane served as elder in their Presbyterian church. Then in the 1980s, back to the Jackson area, this time to stay. The built a home in Madison, where she and Dave lived for the rest of her life. Later in life, Diane became a world traveler, especially in the form of organizing trips abroad that included family and friends. She took her son Rob to Greece and Peru and her son David to Scotland. She took her whole family to Italy for a week. She traveled all over the world with her friends - China, Australia, Turkey, Austria, and many other places. Diane lived a good and full life. Always a Camp DeSoto girl, always a hi-stepper, always a faithful and dedicated Christian, always a sweet soul who will always be remembered by family and friends for the love she shared with so many. The family is grateful to the wonderful caregivers at Saint Dominic's hospital and Hospice Ministries.Memorials may be made to the Music Program of the Fondren Presbyterian Church or to the charity of your choice.
Public Visitation
1:30 pm - 3:00 pm
Wednesday, July 21, 2021
Fondren Presbyterian Church
3220 Old Canton Road
Jackson, Mississippi, United States
Celebration of Life
3:00 pm
Wednesday, July 21, 2021
Fondren Presbyterian Church
3220 Old Canton Road
Jackson, Mississippi, United States
Share Your Memory of
Diane
(601) 898-8565