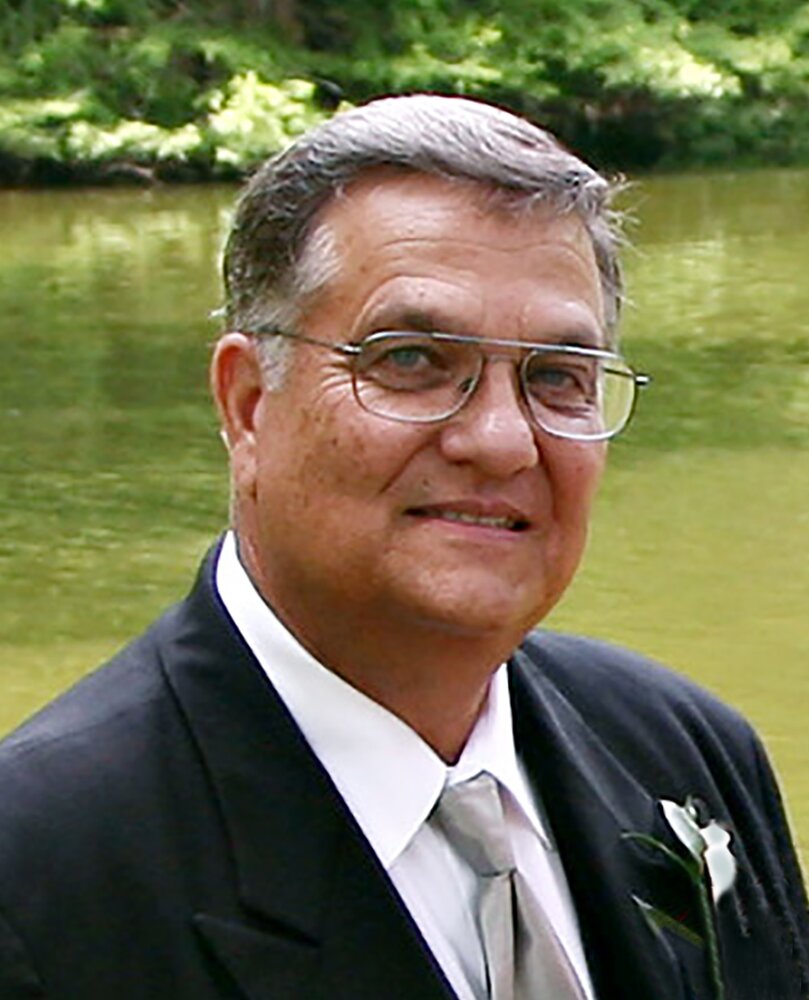 Obituary of Jerry G. Hedglin
Please share a memory of Jerry to include in a keepsake book for family and friends.
Jerry G. Hedglin Natchez, MS Jerry Glenn Hedglin, 76, passed away on March 5, 2022, at 10:07 pm surrounded by his loving family at home in Jackson, MS. Jerry was born on April 11, 1945 in Brookhaven, MS. He spent his early childhood in Bogue Chitto and then his family settled in Natchez. He graduated from Natchez High School in 1963. He attended Copiah Lincoln Community College in Wesson from 1964-1966. He then attended Delta State University where he met and fell in love with Fern Jetta Barrentine. They graduated from Delta State in 1968 and were married that same year on August 3rd at Providence Baptist Church in Cleveland, MS. Some people compared Jerry's appearance to a young Elvis Presley to the point that a young lady in the grocery store said "Ooh Elvis" and fainted upon seeing him. Early on, Jerry became a "shade tree" mechanic that evolved into him later becoming a professional mechanic. If it had a motor, he could master it. He always had a deep enjoyment and knowledge of cars-with a particularly high emphasis on fast cars. One of his most prized vehicles he ever owned was a '68 Pontiac GTO that he purchased brand new. He kept his cars so clean that it was said you could eat a meal off of the engine. Due to his extensive knowledge, he was the liaison for many people when they were making automobile purchases. His daughters said they could call their dad, hold their cell phones up to their vehicles, and he would diagnose their car problems over the phone. Jerry also loved motorcycles and boats. He never turned down the opportunity to take his nieces for adventurous rides on his motorcycle, and he taught several friends and family members how to waterski. He spent several years as a truck driver and received accolades for having no accidents many times. Other than cars, Jerry's favorite hobbies were hunting and fishing. Growing up, he enjoyed duck hunting with his father, and up until his death, he loved to hunt and fish with his best friend Mac Anders. Jerry found another hobby that he enjoyed initially against his will. His son talked him into selling a four-wheeler and buying a horse. Suddenly, Jerry found himself regularly working with "that horse he hated" and grew to love horses. He immersed himself in horses, owning several of them with "Sonny" being a favorite which he raised from a colt. He participated in team pinning and was a board member for the Southwest Mississippi Horsemen's Association. Jerry was quite the character. When his children were young, he led them in "hair races" and enjoyed showing them how a "horse bites an apple." Jerry could fix anything and everything with duct tape. He was known for his catchphrase "devil with it." He would give anyone the shirt off his back and has been known to drive many miles to assist a friend with car troubles. Jerry, who hated to shop, purchased new boots for a friend in need when he noticed it would be helpful. Jerry loved a good steak, loved to tell stories of his drag racing days, loved to "tinker" around with his many tools and loved to eat fried catfish. Even after having five heart bypasses and being told to include more fatty fish in his diet, Jerry headed straight for the all-you-can-eat catfish buffet. Jerry loved to mow grass and would drive his lawnmower down the street to mow his daughter's grass regularly when they lived in the same neighborhood. He possessed the ability to drive for miles at a moment's notice just to get into his own bed. If there was a baby nearby, he gravitated towards it and loved to rock them. He was a baby-whisperer and could soothe a crying baby easily. One of his favorite past times was sitting on a porch during a thunderstorm and listening to the rain. The last days of Jerry's life were nothing short of a peaceful transition completely orchestrated by God. He had family beside him every hour of every day and night. Jerry had meaningful visits by many friends who loved him who were able to express their gratitude for having known him. He was at peace and well cared for by family overseen by the wonderful nurses and staff at Sta-Home Hospice. His family would like to offer sincere gratitude to the Sta-Home Hospice staff. They were extremely helpful and gracious during his transition. The family would also like to thank Dr. Lee Nicols of Central Surgical Associates for finding Jerry's cancer and taking the lead in his care, and Dr. Nicole Cleveland, oncologist at St. Dominic's Hospital, for facilitating his cancer treatments. Jerry was blessed with a loving family who adored him. He is survived by his wife of 53 years, Fern Barrentine Hedglin, and their three children: Jeff Hedglin and his wife Lori of Valdosta, GA, and their children Jesse and James; Jolie Herndon and her husband David of Madison, MS, and their children Silas, Adair, Levi and Myer; and Jana Nicols and her husband George of Madison, MS, and their children Wallace and Owen. He is survived by his mother Beatrice Winborne Hedglin of Natchez, MS, his brother Danny Hedglin also of Natchez, MS, and his sister Charlotte Messer of Houma, LA. Jerry was preceded in death by his father, Vet Hedglin, Jr.; his maternal grandparents Marguerite McCaffey Hedglin and Sylvester Henry Hedglin, both of Bogue Chitto; and his paternal grandparents Hettie Allen Winborne and Jesse Allen Winborne, both of Bogue Chitto. He leaves behind many beloved nieces, nephews and cousins. He also leaves behind his work family that he loved very much at Capitol Transport in Richland, MS. Jerry was a member of First Baptist Church of Jackson. Honorary Pallbearers include: Mac Anders, Derek Barrentine, Matt Feathers, Danny Hedglin, Jeffrey Hedglin, David Herndon, George Nicols, and Lee Nicols. Dr. Jimmy Porter from Anguilla Baptist Church will be officiating. There will be an evening visitation held for Mr. Hedglin on Sunday, March 13, 2022 from 5pm - 7pm. The funeral service honoring him will begin on Monday, March 14, 2022 at 10:30am with an hour visitation prior. In Lieu of Flowers, memorials and donations can be made to any charity of choice in his honor.
Share Your Memory of
Jerry
(601) 898-8565