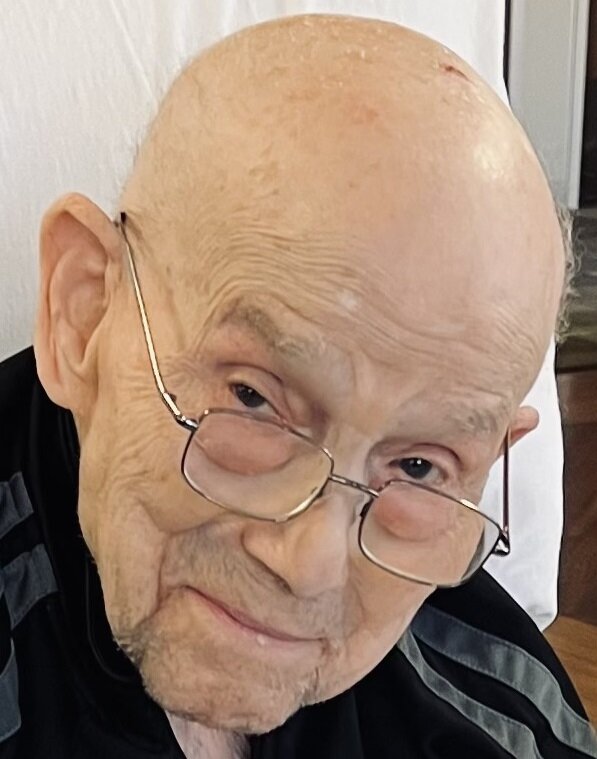 Obituary of William E. Lum
Please share a memory of William to include in a keepsake book for family and friends.
William E. Lum was known as Bill by his friends, but as W. E. by his family and childhood friends. He was born in Pulaski, a small community near Morton MS. His family eventually moved to Morton where he spent his youth. He enlisted in the Navy in World War II and served first as an admiral's assistant and then as a chief dental technician with the U.S. Navy Dental Corps in Boston until the war was over. He was a beloved husband, father, and grandfather. He also loved his many nieces and nephews. He was a devoted Christian making daily Bible study the main priority of his life. He definitely had the gift of witnessing, sharing the gospel with any non-Christian who crossed his path and he would also witness to Christians about the importance of daily Bible study. He so loved his daughters and he and his wife Helen began incorporating Bible stories into their little girls' daily lives as soon as they could hear and understand. He and Helen considered teaching the girls about God to be the most important factor in achieving a happy life closely followed by a respect for authority, hard work, self discipline, and always being polite to others. He was a strict father in many ways but believed that within the confines of the family home it was important developmentally for his daughters to feel free to speak their minds. They were never allowed to be disrespectful to their parents, but they were always allowed to express their opinions. At times of disciplinary action, they were also allowed to plead their case at length without fear of further repercussions. In essence he was an almost perfect father, giving love and instruction in equal measure. Besides his love of studying the Bible, he also enjoyed reading the newspaper and scientific magazines and journals. He absorbed so much information and gave detailed answers to his daughter Donna when she peppered him with questions about nature and the world. Donna had heard and understood the words photosynthesis, chlorophyll, and other scientific terms by the age of eight years old. Other than reading, his favorite pastime was fishing. He loved to drive the family to a local lake for an afternoon of fishing. In the early years, Carol so enjoyed fishing with her dad but when Carol reached her teens, Donna became her father's fishing partner. She was more interested in reading than fishing, so she would be his companion in a small fishing boat, reading books as he fished and enjoying lemon cookies and Cokes throughout the morning. He and his best friend Cecil Lowe would fish at every opportunity and considered thirty to forty fish to be a normal afternoon's haul. Cecil's wife Ruth would fry and serve the fish with all of the fixings. Eating the delicious meal and then playing board games with the Lowes were some of the happiest evenings of their lives. Family vacations were a time of near ecstasy. The summer July trip to Destin was a highlight for W. E. and the whole family. The call for reservations would be made in March with the whole family hovering around the telephone receiver to hear the wonderful word "reserved." Then they would all laugh and dance around in happy anticipation of the family trip. In Destin W. E. loved playing on the beach and riding the waves with his girls as Helen stood on the beach beckoning them all to come back in being certain that they would all drown. W. E. also loved board games. Carol and her dad loved Monopoly and ESPECIALLY Chinese Checkers. W. E. took that game very seriously. He would instruct Carol (and Donna when she wasn't reading a book) on wise and unwise moves, but he never let them win. He was the king of Chinese Checkers. If there had been a Chinese Checkers competition, he would have been a serious contender. Carol bought a beautiful piece of furniture which was a Chinese Checkers board. She and her dad loved to play and even after dementia had crept in W. E. could still play Chinese Checkers very well. He loved to play Chinese Checkers with Carol, and her son Rob, and her daughter Katie, and then Katie's husband Stergios. W. E. was so happy that Stergios enjoyed playing the game with him too. Throughout the younger family years he loved the family's frequent visits with his sister Diccie and her husband Buck and their uproariously funny family. W. E. and family were invited to every celebration, and that could be for anything...holidays, birthdays, graduations, weddings, or just because it was a Friday. Diccie was an excellent cook. Her divinity at Christmas was divine. And her cornbread dressing was just delicious. So visits with Diccie and family could even rival a Friday night date for Donna or Carol. The two families were very close. Also visiting with the Sigrest family in Clifton was a special joy. W. E. loved the family like his own and always enjoyed seeing Helen's uncle and her young cousin Billy and his growing family. W. E. was not the cook in the family but he had two specialties. He made delicious tomato soup and grilled cheese sandwiches which were a staple after Sunday night church services. But his masterpiece was homemade banana ice cream. The girls would become so excited when he announced that he was making his delicious ice cream and they would watch as he bent over the mixer carefully adding his secret ingredients. He loved to show off his ice cream making skills at Van Winkle Baptist Church get-togethers. Van Winkle Baptist Church was at the center of the family's life. Pastor Herman Milner was a wonderful Bible teacher and church leader and the Lum family loved Brother Milner and the whole Milner family. The church held ice cream socials on the grounds a few times each summer and many members would bring homemade ice cream to serve at their designated tables, Bill (as he was known at church) would always make two freezers of ice cream because his ice cream became known as the very best ice cream at the social. On the night of the social a line would form at Bill's table. Passers-by would be beckoned by other members saying "our ice cream is good," but those beckoned would get in line at Bill's table. His banana ice cream was absolutely delicious. In all seasons the family home was respite from the rest of the world. Work problems, school problems, friend problems and boyfriend problems were all made better once the family was together. W. E. worked hard to provide for the family giving them the best that he possibly could and sending his daughters to Mississippi College. When his daughters married he felt that he had gained sons, the boys that he never had. When Carol and her husband Dale had their first child, Rob, it was as if the angels had brought a child to earth just for W. E. and Helen to love. When Dale found a good job in Charlotte NC moving his young family there, W .E. and Helen felt their lives were coming to an end because they so loved that baby boy. Three years later Dale and Carol's daughter Katie was born and Helen and W. E. had another child to love endlessly. For almost 30 years Helen and W. E. and Donna and her husband Bubba made the annual trip to Charlotte to spend Christmas with the whole family. W. E. and Helen loved their daughters and adored their grandchildren Katie and Rob. It was the highlight of their lives to see their grandchildren enjoy the Christmas festivities every year. Such happy times! W. E. had begun smoking cigarettes while in the Navy and he was a heavy smoker. In 1965 he developed a chronic cough and the doctor told him that he needed to quit smoking. Being the self disciplined fellow that he was, he took his last pack of cigarettes and threw it in a ditch and never smoked again. But his chronic cough continued. The M.P.I. cabinet factory was always heavily filled with dust and W. E. felt that he might have serious lung problems if he did not find other means of employment. Somehow he met Mr. Cecil Lowe who told him about a revolutionary cleaning machine called The Compact. It was a vacuum-like cleaner but had been developed by the aerospace division of the Honeywell Corporation. Mr. Lowe was very persuasive and his passion for the cleaner was contagious. W. E. decided to throw caution to the wind and try his hand at selling The Compact. Cecil Lowe was his boss and became his very best friend. He always called Cecil "the Chief." W. E.'s great looks and charming personality and also belief in the product made him a natural salesman. Although Helen was skeptical about his career change (especially the summer before Carol was to enroll at Mississippi College) W. E. launched a sales career that provided for his family, fed and clothed them, and sent two daughters to an expensive college without the need to get a loan to pay for their education. He really enjoyed meeting people and he had found his niche in life. His tenacious work ethic had served him well. W. E. and Helen had many ups and downs in life but they were always devoted to one another. The whole family's world was shaken when Helen had a massive stroke in 2006. She miraculously survived but had extreme challenges requiring residency in a rehab nursing home in Clinton. Her initial condition was dire but after much therapy she settled into an existence of at least being able to enjoy constant visits from family. Her sister Jackie Noel graciously sacrificed her every weekday morning for eight years to be by her side; and W. E., unless he was ill, made the daily trip to spend the afternoon with his beloved Helen. He woke in the morning eager to drive his little blue Toyota to see his cherished wife. Each day he rubbed lotion on her arms and hands and combed her hair until it was just right. He read the Bible and inspirational books to her and discussed the news of the world. He was so happy to still have his beloved Helen. In 2010 W. E. had heart valve failure and became one of the oldest heart valve replacement recipients in Mississippi. To recover he was sent to Helen's nursing home. It was great motivation for him to gain strength in order to get down that hall to see Helen. After being released he had to endure a few months of rest before he could return to his daily routine of driving to see Helen, but then he resumed his daily vigil. In 2014 Helen finally succumbed to the ravages of her stroke and W. E. was inconsolable. It seemed that he would never be the same. Donna and her husband Bubba had been living with him to help care for him after his heart surgery. But even their presence could not alleviate his grief. After Helen's passing W.E. began to show signs of dementia. It was very gradual but by 2017 it became necessary due to Donna's health for Carol and Dale to move W. E. to their home in Charlotte. The sad decline of dementia descended upon him, but Carol and Dale gave their all in caring for him. At some point in every day he would call for Helen. The decline continued and Carol and Dale soldiered on in caring for him. Carol and Donna so loved their daddy that it was very difficult to consider placing him in a nursing facility. God made that decision for them when on Thanksgiving Day 2022 W. E. fell and badly injured his hip. That injury caused a further descent into dementia. God stepped in again by opening up a room where the family had been told there was no room. It was in the V.A. nursing home in Black Mountain, NC. He was admitted there and the expert doctors and care givers adjusted his medications and his mental faculties improved dramatically. The facility was beautiful and sparkling clean. He fell in love with the caregivers at Black Mountain who were wonderfully caring and kind. He was having a very happy life. It was thrilling to his loved ones to see him doing so well. Carol and Dale visited him often and in March 2023 Donna and Bubba traveled from Mississippi to visit with him for a few days. Katie met them there and they had a joyous reunion. W. E. was in very high spirits and was incredibly alert. It seemed that there was plenty of time ahead to spend with their dad and granddad. But a 97 year old man is very susceptible to health issues. He became very ill with a stomach virus and the dementia returned in full force. He breathed his last precious breath at 4:42 p.m. April 11. In the wee hours of that early morning before his passing, Carol and Katie had been staying in his room to be near him and heard him stir. He said one last word. He very clearly said, "Helen." W. E. Lum will be dearly missed by his family. The family wishes to thank every caregiver at the V. A. home in Black Mountain NC for the extraordinary love and care that they gave him. They made his last days so full of happiness. The family will be forever grateful. He was preceded in death by his wife of 68 years, Helen Sigrest Lum; parents, E. E. Lum and Mittie Woods Lum; and his siblings, Diccie Chesnut (Buck), K. B. Lum (Daree), Doris Haley (Willard), Winnie Reeves (Talmadge), Connie Houston (Otto), and Marshall Lum. He is survived by his daughters, Carol Shepherd (Dale), Donna Bowlin (Bubba), and grandchildren Rob Shepherd (Shannon), and Katie Moschos (Stergios); and many cherished nieces and nephews. A graveside service will be held Saturday, April 22 at the Clifton Baptist Church Cemetery in Forest, MS at 2:00 p.m. W. E. and Helen W. E. was born in the small community of Pulaski near Morton, MS. He was the youngest of seven children. As the baby of the family he was pampered by his mother and his oldest sister Diccie. It fell to her to help care for the younger children and she doted on baby W. E. Within a few years Diccie married but lived nearby in the community and continued to spend time with W. E. A bond was formed that was to last throughout their lives only ending in her death in 2000. Within a few years after his birth, the U.S. was in the midst of the Great Depression. His father could not find work and in desperation found a job as a sharecropper on a large farm in Clifton MS owned by Lemuel and Nolia Sigrest. The Lum family moved to a small house on the farmer's land. God had begun to pave a path for W. E.'s life. The Sigrest's had grown sons with children of their own who were near W. E.'s age and he would often walk to the Sigrest's home to play with the Sigrest children. They were James and Marco Sigrest and two little girls, Jacqueline and Helen Sigrest. He was drawn to little Helen who was five years his junior. He would watch as Helen and Jacqueline played crackerjacks. He would be lifelong friends with the boys. The Lum's little house burned when he was about 10 years old. His mother had been secretly saving coins and the few bills that she could stash away from their meager pay and she announced to her husband Papa Lum that she had saved enough to buy a piece of property near Morton. The property was purchased. Papa Lum was an accomplished builder and he built a very nice house for its day. He built a hen house, an ice house, a smoke house and other out buildings. He also built a beautiful barn that stands to this day. It has only in recent years become weathered to show its age. Several years ago it remained sturdy and sound, the wall planks placed by Papa's hands still smooth and straight, the roof still intact. The family moved to their new farm home near Morton. As the older siblings all married and moved away, W. E. and K. B. worked together all of their young lives at the arduous tasks of keeping the farm going. As the two youngest children left at home, they were workmates and playmates. As all brothers do they laughed and argued, and played and fought with each other. When W. E. was twelve years old he was in town with his friends when they heard quite a few long blasts of a train whistle then several short sharp blasts of the whistle followed by a tremendous crash. They ran across town to see what had happened and were faced with a grisly scene. A car had raced across the tracks trying to beat the train and had been broadsided killing all of the passengers...including the mother, father, and sister of the precious little girl Helen and also sweet little Jaqueline's mother. The officers standing nearby discussed that they needed to find the school bus carrying Helen and Jacqueline to break the news to them. One of W. E.'s friends had a truck and as young boys will do they wanted to follow the officers to witness the drama. The officers were able to find the bus and stop it. As the boys drove up they heard that the young girls had been told the news. W. E. did not realize until she stepped off of the bus crying so pitifully that it was little Helen who had lost her whole family. Something about that young girl captured his heart and at that moment he promised himself that he would take care of that girl someday. Life continued and W. E. grew into a very handsome young man, some saying he was the most handsome young man in the whole county. He was very popular with the girls but he refused to become seriously involved with any of them because that little girl Helen remained in the back of his mind. When he was old enough to drive he would go to visit his old friends on the Sigrest farm. He would keep an eye out for Helen just to see how she was doing. She was becoming more lovely with each passing year...and she remained in his heart. World War II was brewing and he along with most of his friends enlisted. He enlisted in the Navy and was sent to Great Lakes, Illinois for his initial training and duty assignment. A hundred or more men were gathered in a great hall, waiting for the call to be assigned to their duties. An officer walked in and spoke to the officer at the microphone and took him aside. When the officiating officer stepped back to the mic he asked if any of those men could type 40 words per minute. Out of all of those men, W. E. was the only one to raise his hand. He was told to follow the man who had spoken with the officiating officer. That man was actually the assistant to the commanding admiral. The officer asked his name and where he was from. W. E. answered his questions and the officer having heard W. E.'s thick southern accent asked him if he was SURE that he could type 40 words per minute. W. E. was mot pleased to have his honesty questioned and he assured the officer that he most certainly could. He was led to an office where he sat at a typewriter and his typing was timed by a secretary. He had typed 44 words per minute. The officer was amazed and instructed W. E. to follow him. W. E. was introduced to the admiral and the assisting officer told the admiral about W. E.'s typing skills. The admiral asked W. E. if he felt that he could handle office work. W. E. being a very confident young man answered that he was certain that he could. For the next several months he was one of the assistants to the admiral filing documents and typing letters and doing other clerical chores. The admiral was soon to be transferred. He had been impressed with W. E.'s intelligence and tenacious work ethic. He suggested that W. E.'s skills might best be used in soldier support stateside rather than being sent into the field. W. E. was transferred to Boston where he was trained to be a dental assistant and spent his time in support of the troops' dental health until the end of the war. He served under a wonderful dentist who became a mentor and friend. When the war ended the dentist had been so impressed with W. E. that he offered to send him to dental school himself so that W. E. could also become a dentist. W. E. was very excited and wrote to his parents back home with the news. He was waiting for his release from service when he received a letter from his parents in reply. They said as the youngest child they wanted him to come back home and help them with the farm. This was a traditional practice in those days and W. E. felt that he would be burdened with guilt if he denied their request. Despite the dentist imploring him not to waste his potential, W. E. reluctantly told the dentist that he was returning home to help on the farm. There was another reason for him to go back home...Helen was there. W. E. had made friends and had enjoyed his free time while in Boston, seeing the city with his friends and going to concerts. He even saw Judy Garland in concert, His daughters would later ask what she was like. He would always answer that she wasn't as pretty as Helen. He was so handsome that he was always attracting the young ladies in Boston. He had several beautiful casual girlfriends in Boston, but he never forgot Helen. She was always in the forefront of his mind. Near the end of the war he and Helen had begun to write to one another much to her grandmother's dismay. He was 20 years old and Helen was only 15. Helen was very smart and her grandmother wanted her to go to college. But love was in the air. An old Valentine was found among Helen and W.E.'s possessions. The card had preprinted worlds of love inside, but Helen had just sweetly and innocently written "To W.E. Lum from Helen Marie Sigrest." W. E. returned home in 1946. It is lost to history as to how quickly he made his way to visit Helen. Helen's grandmother did not approve of their relationship. But they drove to Brandon MS to elope on December 2, 1946 and moved in with W. E.'s parents. Mama Lum was very kind to Helen, but every young couple wants their privacy, so they moved to Jackson to share a very small apartment with his brother K. B. and his wife Daree. Though they lived in very close quarters, the two young couples enjoyed each other's company. Helen and W, E. repeated many stories through the years of the fun that they all had together. W. E. found a job at M.P.I., a cabinet making factory. He and Helen had little money but were very happy in their own little world. He was quickly promoted to supervisor and they saved every penny to buy a little house on Gallatin Street. Soon their first daughter Carol was born and then several years later a second daughter, Donna, was born. They had rented out heir first home and bought a house on Fairhill Drive. It had a big yard with a very large oak tree in the backyard in which W. E. hung a rope swing from a very high limb. The girls could swing as high as the sky. It was a perfect place for two little girls to spend their early years. They built a house on South Drive in 1962 where the family would thrive and grow together. Life wasn't always perfect, but W.E. and Helen were perfectly devoted to one another and were determined to give their girls the best life possible. After many happy family years, their girls had grown up and married. W.E. and Helen moved to a sweet little house in Byram. They continued to dedicate themselves to the daily study of God's word. When Helen had a stroke in 2006, W. E. was by her side every possible moment, living his life to make his way each day to see his Helen at Trinity Nursing Facility in Clinton. Helen passed away in 2014 after eight long years at the facility. W. E.'s Helen had disappeared from his life. It seemed that a light had dimmed in his spirit. In his declining years with dementia he spent a part of every day calling for Helen, asking where Helen was. He was so distressed that he could not find her. In the last few days of his life, he possibly suffered a stroke and was unable to speak. He could only communicate with his eyebrows. In the early morning on the day of his passing, his daughter Carol and granddaughter Katie heard him stir and as they stood by his side, they heard him clearly and distinctly say his last word...."Helen." We know from the word of God that they are both now in the presence of Jesus Christ, in a place of no more death, no more sorrow, no more crying, and no more pain. W. E. is reunited with his precious Helen forever.
Interment for Mr. William Lum
2:00 pm
Saturday, April 22, 2023
Clifton Baptist Church Cemetery
5034 Clifton-Hillsboro Rd
Forest, Mississippi, United States
Online Memory & Photo Sharing Event
Ongoing
Online Event
About this Event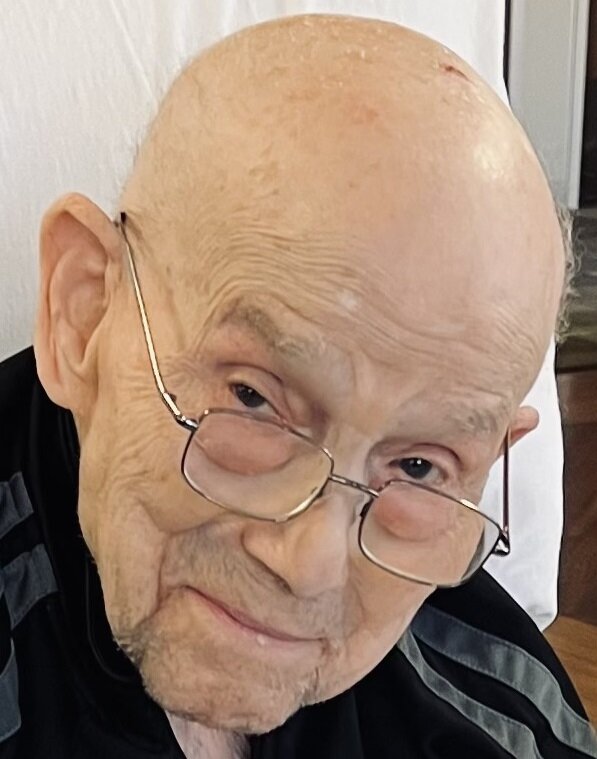 In Loving Memory
William Lum
1925 - 2023
Look inside to read what others have shared
Family and friends are coming together online to create a special keepsake. Every memory left on the online obituary will be automatically included in this book.
Share Your Memory of
William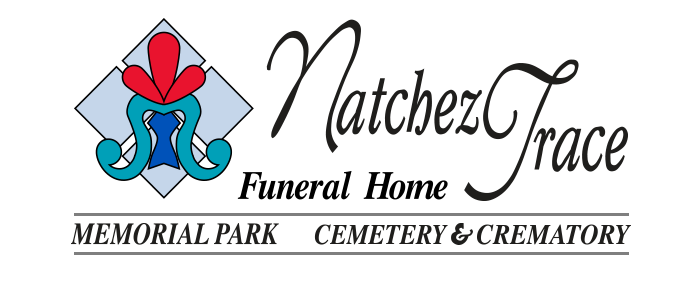 (601) 898-8565